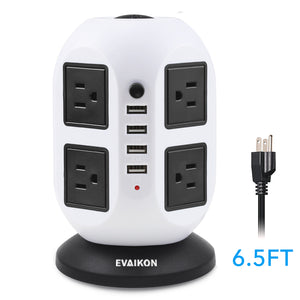 〖SMART CHARGING〗- The power strip tower have smart functtion,surge protection,lightning-proof,overload protected,over voltage protection,over charging Protection,short circuit protection,over current protection,fire-retardant materials.it will cut off the power fastly when these hapen to protect your velue appliance , so you don't need to worry about the dangerous.

〖SMART DESIGN〗- This extension cord can support 8AC Outlet + 4USB slot, 110V-250V ,Max 3000W/13A, also provided 2.1A&1A two optional USB charging to different needed .Two button at the top of power strip separately control LEFT and RIGHT outlet, It is very convenience.

〖SMART USE〗- This multi outlet demensions is 4.4 x 3.5 x 7.4 IN with 6.5FT cable length ,It's very mini and save space.You can plug in your computer,mac book,phone charging ,printer,fan etc. But you better plug the appliance adapter in both side to keep balance. And also you can turn OFF/ON the power LEFT OR RIGHT side outlet once you don't use to increase working life.